Deb Pacquette's newest restaurant is a must try for Nashville foodies. This is the first review.While I did not give it a great review I still feel it is worth trying.  The restaurant is on the ground floor of the Encore Building in SoBro. We ate in the private dining room so I did not get to check out the main dining room and its vibe . So , I plan to dine there again soon to give a update. The private dining room seats 10 and was perfect for a small group.
                                    Cocktails
I believe the start of a great meal begins with a great cocktail. I tried two of etch's signature cocktails. First , I tried the whiskey smash was was a version of a mint julep but with a twist. Markers Mark muddled with lemon with mint floating in the cocktail . the lemon overpowered the smokiness of the bourbon for my taste . Second , I tried the Don. The Don is a Manhattan want to be with an Italian bitters along with the sweet vermouth. The Don is swimming with the fishes . For those that don't like the Godfather , you will not get the joke.
                                      Appetizers
I tried three. First up was the cauliflower appetizer. I thought it was the best of the lot that I tried. It was roasted goodness with two types of sauces. I preferred the feta crema over the pea pesto. Second was the pork belly. It had a creamy texture with a heavy hand of a hoisin based sauce. I did not get the peanut garnish. Lastly was the octopus and shrimp bruschetta. Some folks that I was with loved it, but I thought the toppings overwhelmed the bread . It overpowered the toast but it was a nice app.
                                     Salads
I  tried the he seared tuna. It was a cold mess. The salad could not figure out what it wanted to be a salad or a entree. Overdressed , the salad did not fit the bill for me. On the other hand , I tried a bite of the etch salad. It was what a salad is meant to be. Light , perfectly dressed , and a great prelude to the meal. the etch salad is the one to order.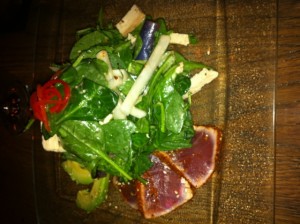 Here is a photo of the Tuna salad.
Since this was not a glowing review, I owe it to go back again. I loved the concept and the beauty of the menu. I always wonder if you have the best dining experience in a private room . So , look forward to a second review in the future on etch on the entrees.